I found Patrick on Instagram. 
Patrick Bremser is a daytime chef – cooking in Santa Cruz, California. But he has a hidden life: Every free minute he spends on the water and outside. And THAT above is what comes out of it! 
Patrick is one of my favourite OceanLove Photographers. So no time to waste to introduce him to you!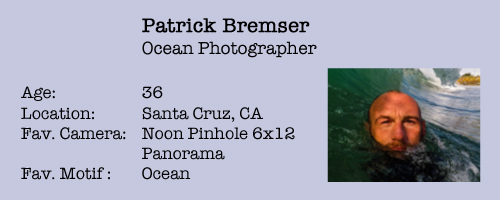 What is your daytime job?
How much time do you spend in photography?
I carry a camera everywhere. Usually my Nikon D610 is in the car with me for those moments that can be fleeting or when something wonderful unfolds. I am in the water shooting or by the water shooting 3-4 times a week. Since I live just a couple minutes drive from a coastline of spectacular surf and the opportunity to watch sunrise and sunset over the ocean, I seize the opportunities to photograph the beauty every moment I have the chance.
When did you start photography?
My father had an old twin lens reflex camera that sat on a shelf as I grew up. One day in elementary school, I took it from the shelf and shot some photos with the film that was in it. I went through a few rolls of 120 film in highschool, but it want until after I finished culinary school and I was living in Hawaii that I really began to hone my interest and eye with my photography.
When did you start surfing and ocean photography?
I Loved shooting the ocean and the waves. I have been mesmerized with the shoreline since I was a little child. The dynamic play of the ocean and the land holds my attention like very few things. I didnt get a camera I could take out into the ocean until 2004 and since then I have been slowly advancing my equipment.
What's the stoke about it?
I have been surfing and playing in the shorebreak waves since I was very small. I love the waves and have been indescribably pulled to the hollow section of the waves since then. So, I have found every which way to get into the barrel of waves for decades now and still am in awe everytime I get in the water. I wanted to share the moments I witness in the breaking waves with people that have never been or people that never will be able to. A photograph is not the same as pulling into the barrel of a 5foot wave, but it is something more than what many people will get to experience. I just want to share the moments.
Why the Ocean?
the ocean is an integral part of my life. I find peace and health by the ocean. I find strength and challenge in the ocean. I find humility and truth in the ocean. I find food and sustenance in the ocean. I find community and and joy by the ocean.
What does surfing and zhe combination to photography mean to you? Surfing is my church. One of my opportunities to connect with the silence within and the greatness and interconnection around me. spending time is nature is key for balancing the hectic busy electronic world. Without that time spent outside, no matter what one may do, the mind begins to clutter and race. I believe our connection with nature is at the foundation of our being. If we deny that, we begin to unravel our ability to sustain life. I use my photography to capture moments that hopefully inspire other people to take that time to explore nature and reconnect with who they are at their core. From that place, a person is limitless.
How about full time photography?
I would, completely. It would allow me more time to spend out adventuring and photographing places that may help people become more aware of the treasure that is all around us and how we can help sustain a balance with it instead of seeing it as subordinate to us. I dreamt of being a National Geographic photographer as a kid: traveling and documenting the amazingness of the world. If I could return that inspiration through my photography, I would be a happy man.
Who are your photograhy  heroes if it comes to ocean photography?
Clark Little, Art Wolfe, Aaron Chang, Chris Burkard and thousands of others.
Have you met any of them?
What will be your next ocean photo trip?
I will be heading to Kauai, Hawaii in 3 weeks for a 3 week trip. It is mainly a cooking work trip, but I have the first half of everyday to adventure and you can be assured that I will be in or around the ocean every single day.
Where can we see your stuff ?
I have not been published yet. I did just win the monthly photo contest for Surfline for the month of october. My first win. :)I am a staff photographer for a website called SantaCruzWaves.com. It is a great community resource for all community related events for the Santa Cruz area of California. I am one of a great group of photographers and organizers.
If you love what you see as much as I do, check out Patrick's website here and get yourself a great xmas-gift! 😉